So here we are 45 days since I started and it's time for a recap. My original goal was to capture at least one spot on page one of the Google search for one of the various keywords, granite countertop companies Calgary, granite countertop installers Calgary, granite countertops calgary, granite installers calgary and granite countertop Calgary.
I have no experience in the granite industry, yet I put together a report on "How to Choose a Granite Countertop Installer in Calgary" by spending a day researching and writing. I also created an additional report on how to clean granite countertops as a bonus.
From there I created a set of four videos covering "the Myths About Granite" and a couple other quick versions for my lead capture page and one to push out to various video sites. I also put together one article talking about Granite versus Marble Countertops. Then finally about a week ago, I put together a blog site to help expand the info.
So what are the results after 45 days? Overall I am pretty disappointed, but I did learn quite a bit. With some of Google's new updates to their search algorithms I realized that a Lead Capture Page isn't enough. Future campaigns will have more complete launches as part of the package.
Next, five videos simply isn't enough. It's getting tougher to get the backlinks to the pages recognized and longer for them to appear. For real traction it appears I need at least ten videos out there if not more.
So back to the results. The best I did was two keywords on page 1 for just under a week, Granite Countertop companies Calgary made it to 7 and Granite Countertop Installers Calgary made it to 9. Granite countertops Calgary and Granite Installers Calgary both made it into the low teens, but didn't crack page one.
Now I do have a lot of spots on page two and three for various videos and the article and there is potential over time for them to slip forward, but it will require more dedicated time for it. Overall I had roughly 60 visits to the site and zero leads captured. Was it the reports? Was it the titles? Still a bit early to tell.
It's most interesting when I compare it to another campaign I am running for someone where we have 11 videos out already and more coming. This client is currently operating with 10% of his visitors clicking through for his report. So good news is the Granite test which is an experiment and unpaid isn't performing, but the  work I am getting paid for is doing gangbusters.
Just to provide an idea of how gangbusters, here's a couple screenshots of two searches, the yellow highlighted areas are the videos we put together;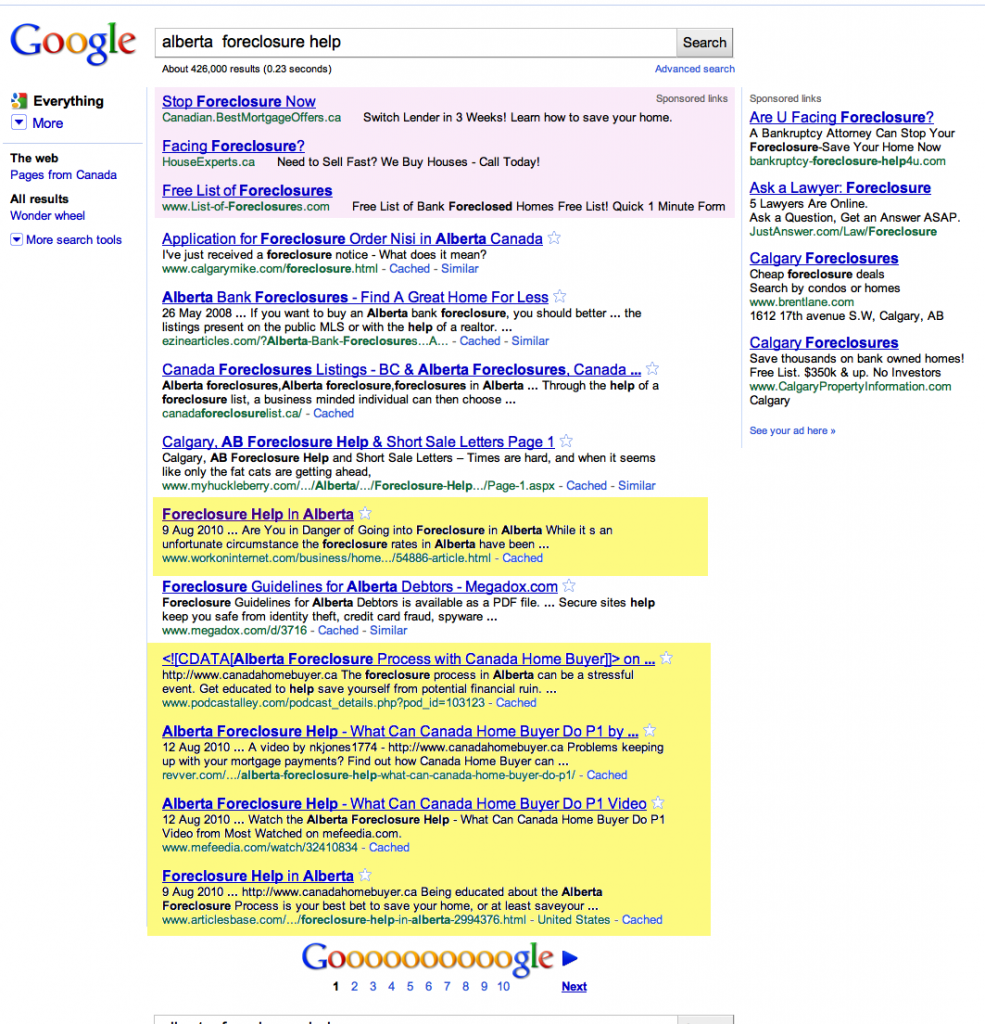 5 spots on page 1 of Google out of 428,000 results makes me pretty happy, but…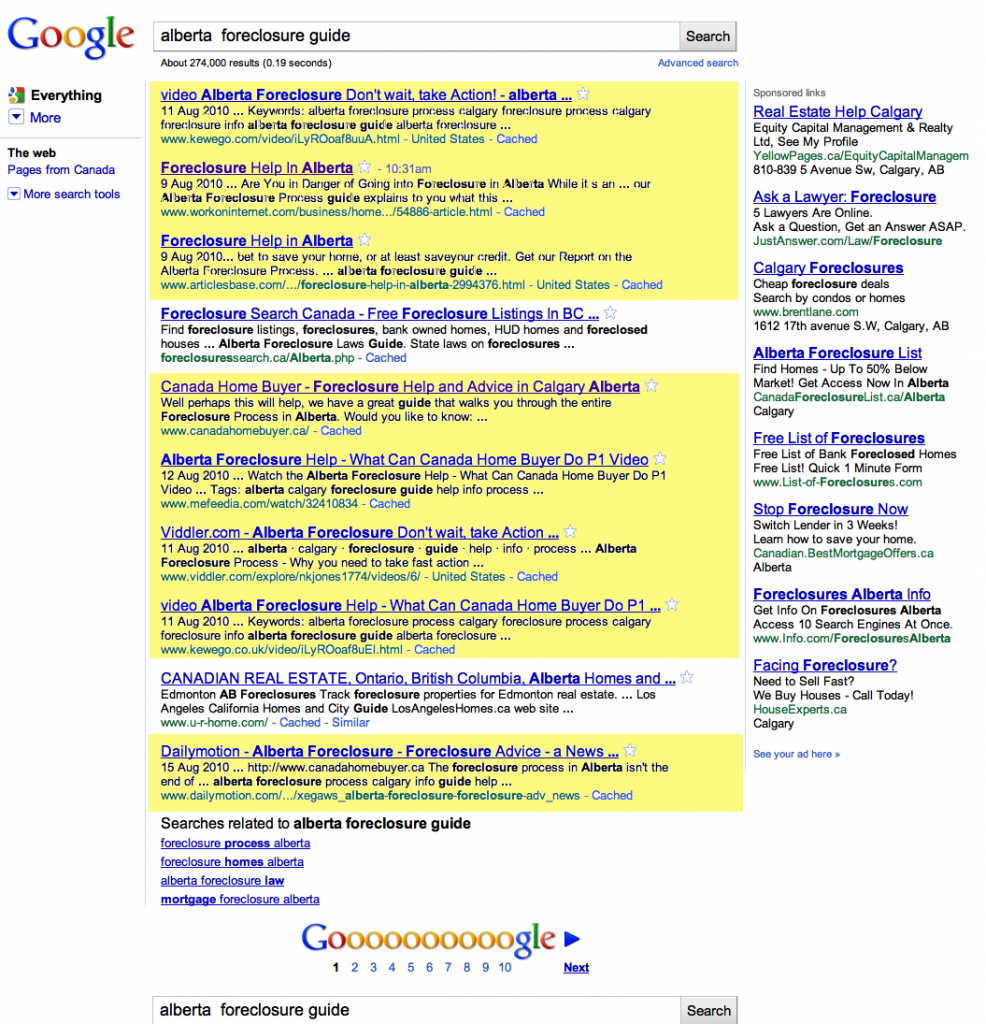 8 spots on page 1 of Google out of 274,000 results isn't too shabby either. Plus we have other keywords also working for us.
In the end, I understand I need more content to push out. Ideally when I contact some of the Granite companies next week, I find one or two who understand the opportunity that this presents. If I can work with them and can get into their shops and/or a couple of their job sites to create some branded videos for them, I can bring them some new business, which this is really all about.
If you have a small business and would like to inquire about us creating a web video campaign for you simply email us directly or leave us a comment below.